Genesis Electric and PHEV Research
We might be new to the car game, but we're ready to dive into the electric world headfirst with the new and coming 2022 Electrified Genesis G80. A fully electric luxury sedan that features high levels of performance and technology and ushers in Genesis into a new world of electric luxury.
This page is dedicated to helping you learn more about the upcoming Genesis electric lineup, the distinguishing factors about the vehicle, how to maintain and service your Genesis electric and PHEV, how and where to charge your Genesis, you'll learn about the battery and warranty, and just how much you can qualify for on federal tax credit by simply switching to driving an electric or hybrid Genesis.
Our team at Genesis of Schaumburg can answer any questions that you have about the upcoming Genesis G80 electric and help you determine if it will fit your needs and lifestyle. If you have any questions, please don't hesitate to call 847-230-8230 or simply contact us and a member of our Patrick Direct Sales Team will reach out to you.
Upcoming Genesis Electric Lineup
Electrified Genesis G80 – Coming 2022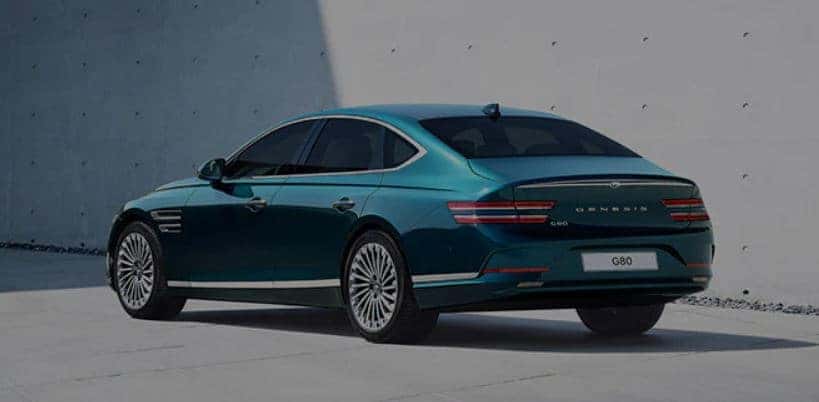 Starting MSRP: TBA
Total Pure Electric Range: 265 miles (Genesis estimate)
Fuel Economy: TBA
Annual Fuel Cost: TBA
0-60 MPH: TBA
Power: TBA
Electric Motor/Battery: Electric motor with 184 hp/270 ft. lb. torque
Time to Charge: A quick charging system that can charge the battery from 10% up to 80% within 22 minutes provides a convenient driving experience. The Electrified G80 also makes it possible to use electric appliances outside the vehicle conveniently with V2L (Vehicle to Load) feature.
What's the Difference Between a Hybrid and a Plug-in Hybrid (PHEV)?
Hybrid
A vehicle is a hybrid if it's 100% gasoline-fueled but doesn't rely solely on its gasoline engine for propulsion (defined as the action of driving or pushing forward). Hybrids have electric motors that sometimes power the car in order to delay the gasoline engine and save fuel. At times, both systems work together for added power. Electric motors function as generators when you press the brake.
Hybrids get energy at the same time from a gasoline engine and an electric motor. The engine and motor work together to power the car. The engine also uses gasoline to help recharge the battery which powers the electric motor.
Hybrids use gasoline engines to keep batteries charged as you drive. There is no need to plug them in.
Plug-in Hybrid (PHEV)
PHEV's use a gasoline engine and an electric motor, but in different ways. A plug-in hybrid primarily uses its electric motor, which is powered by the battery. A plug-in hybrid won't use gas until the battery runs out of power. A plug-in hybrid uses its engine as a backup plan.
PHEV's can be plugged into a 120-volt household outlet or a 240-volt charging unit (or wall charger). A plug in-hybrid can be driven on pure electric power without burning any fuel.
A PHEV has a much larger battery and a means to recharge it using an external power source. A PHEV acts like an electric vehicle with the gasoline engine not being used when it's battery has to charge. The engine comes on when the battery runs down which allows the vehicle to continue as a regular gasoline hybrid. It also uses regenerative braking to save fuel.
Charging Your Genesis: How and Where?
Although Genesis doesn't currently have an electric or plug-in hybrid vehicle as of yet, one thing that has been common between many different brands of vehicles is that you will be able to charge from your home using either your standard plug-in socket or a wallbox that you will have to have installed. There is also an option to publicly charge your vehicle.
Once Genesis of Schaumburg has more information about how to charge the new and upcoming electric and PHEV models, we will update this page with any pertinent information.
Below is a map showcasing the many charging stations within the Chicagoland area and beyond.
Maintenance/Service of Your Plug-In Hybrid or Electric Genesis


Considering the new Electrified Genesis G80 is not available yet, we do know that the maintenance and service of your electric or PHEV car, truck or SUV should be left to the pros.
As soon as the information is made available for the electric Genesis, we will update this page with any relevant information.
WARNING: Do not do any repairs on the vehicle yourself. Electrical cables and/or components that have come loose may only be corrected by an authorized Hyundai workshop. Schedule service today!
Genesis Warranties for the Genesis Electric and Plug-In Hybrid Vehicles

Genesis New Vehicle Warranty
5-Year/60,000-mile Comprehensive Limited Warranty (bumper-to-bumper that covers all major systems, including high-electronic systems)
10-Year/100,000-mile Powertrain Warranty
5-Year/Unlimited-mile Anti-Perforation Warranty
1-Year/12,000-mile Replacement Parts
1-Year/Unlimited-mile Accessories (covers factory-installed genuine Genesis accessories)
3-Year/36,000-mile Paint (covers paint defects)
3-Year/36,000-mile Battery (covers battery defects)
5-Year/60,000-mile Audio/Navigation/Bluetooth Protection
1-Year/12,000-mile Adjustments Coverage (covers the cost of minor adjustments that your car needs for the first year you own it)
1-Year/Unlimited-mile Air Conditioner Refrigerant Charge (covers 1 air conditioner refrigerant change)
Genesis Battery Warranty
The electrified lineup of Genesis hasn't been released yet. As soon as it does, we will be sure to update the electric and hybrid battery warranty information.
Federal Tax Credit
You may receive an incentive of up to $7,500. State incentive programs for Electric vehicles vary in their scope and applicability. While tax incentives are most frequently mentioned, rebates, HOV access, toll reduction and sales tax exemptions are also offered. Please consult your knowledgeable financial planner or tax specialist to determine how the state and federal incentive may apply to you.
To learn more about the Federal Tax Credits available, please visit: fueleconomy.gov
Visit Genesis of Schaumburg near Elk Grove Village and Palatine to learn more information about the upcoming Genesis electric and plug-in hybrid vehicles, or simply call us to learn more today!